Written by Scene Magazine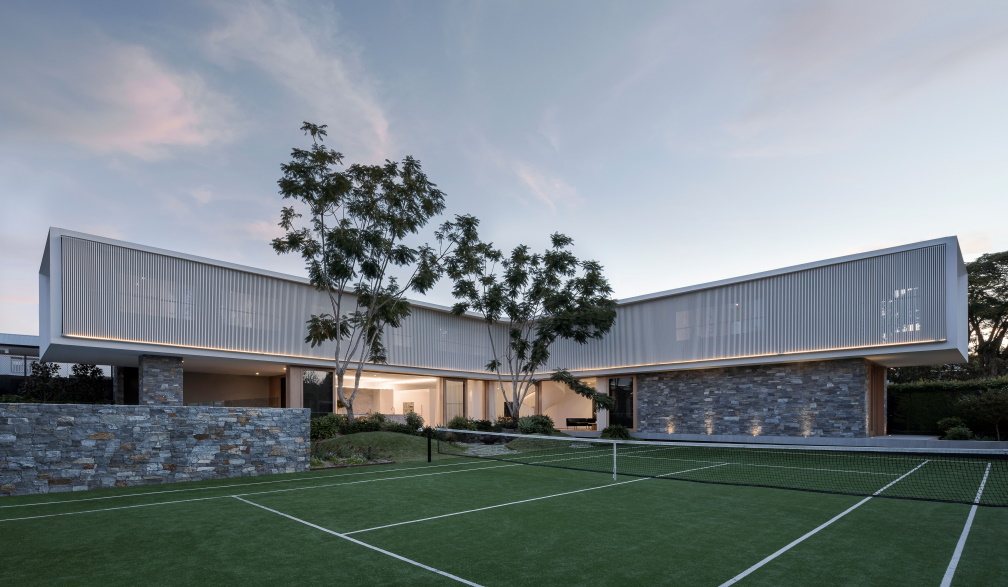 Luxurious family living is a masterpiece of design
Boomerang House is the stunning home of architectural husband and wife team, Hayley and Joe Adsett. Designed to their own brief, functional family living was at the core of each meticulously considered decision. The property was built on a 1200 sqm block by high-end residential Brisbane builder/developers GRAYA™ and is a masterpiece of design and craftsmanship.
Boomerang consists of five bedrooms, including a parent's retreat, five bathrooms, a four-car garage, underground wine cellar, upper-level lounge and a light filled downstairs living area. The enormous square block also facilitates a 9m swimming pool and tennis court for Joe and his family.
Grand in scale and impressive in nature, Boomerang was one of the biggest builds undertaken by GRAYA™. "This was one of the biggest homes Graya has built and we'd never completed a home with a tennis court. It was a great challenge and we enjoyed watching it all come together," said Rob Gray from GRAYA™.
While generous, the property still manages to feel relaxed enough to accommodate family living.  Curved geometry defines the inside space, resulting in an organic, natural sensation throughout the home. Statement architectural features are layered throughout the interior in a palette of fresh white and soft grey, juxtaposed with striking furnishings, while floor to ceiling windows and sliding doors enable natural light to flood the downstairs living area, maximising the connection with the outdoor space.
"This was Joe Adsett's personal home, so he wanted it to be functional for his family, whilst bringing the inside out and connecting key interior and external design elements," says Rob.
The defining feature of the downstairs living area is a helical stairway that joins two floors of the residence. This magnificent sculptural masterpiece was created with CSR Gyprock's premium Flexible plasterboard. Designed to impress, Gyprock Flexible enables specifiers, designers and installers to easily create architecturally defining moments such as curved walls, ceilings and stairways.
"This was the first curved stairway we created, Gyprock Flexible helped to make this process seamless," said Rob. The 6.5 mm thick plasterboard sheets have an enhanced gypsum core which is designed to bend for small radius curves, enabling designers and installers to create convex curves with a 250mm radius and concave curves with a 450mm radius.
The stairway culminates in a beautiful wrap around library, complimented by a circular skylight which enables light to fill a spectacular void that traverses the three-story home. Impressive, impactful and breathtaking, the skylight and void were also created using Gyprock Flexible, demonstrating how elevated design thinking, coupled with great craftmanship, can shape basic building materials into modern masterpieces.
The home is configured in an L-Shape, which helps take advantage of the large block, but also enhances the indoor-outdoor living. The practical configuration enhances the liveability as the separate living spaces all connect to the pool, garden and tennis court.
With oversized windows featuring throughout, the remarkable light filled property, set within the inner-city suburb of Ascot, Brisbane, is grand and impactful on all levels yet responds to the dynamic of family life and living.
For more information on how modern building materials and systems can lead to beautiful structures and interiors please visit
www.gyprockliving.com.au