The Great Ocean Reno: A seamless integration of modern coastal design with original '30s charm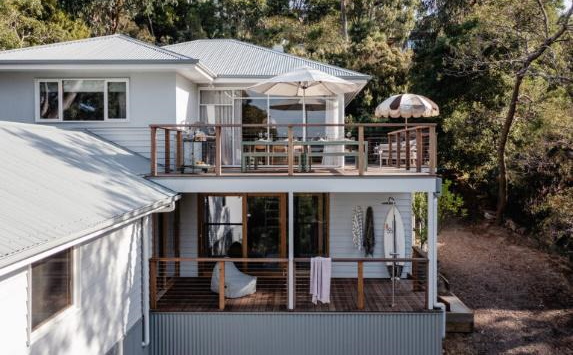 Lucy Glade-Wright, Designer at online homewares hub Hunting for George and her husband Jonno Rodd, wanted to transform their 1930s weatherboard beach shack on The Great Ocean Road, Lorne Victoria, into a relaxed holiday haven with enough room to accommodate their family and friends.
No strangers to renovations; Lucy and Jonno documented the entire process on their popular Hunting for George You Tube channel which boasts more than 205k subscribers. Not only did they restore the home, but they also added an extension turning it into a five-bedroom, five-bathroom Beach House.
"We've renovated a few houses now, but this was definitely our biggest project, and we had the added complication of having to photograph and film everything as we went," said Lucy.
The first episode tracks the exterior transformation of the build which, according to Jonno needed to reflect a modern coastal design that complemented the existing home and its environment. They also wanted to future-proof the home to make it more efficient.
"Part of the exterior design requirements from council were to preserve the look of the existing building. The top half of the exterior had somewhat flat panelling, while the lower half had standard weatherboards. So, in order to get a modern look with the softness and charm of the original home we used HardieTM Fine Texture Cladding on the upper level and LineaTM Weatherboards below, both by James Hardie," said Jonno.
Lucy and Jonno chose HardieTM Fine Texture Cladding for the upper level of the Beach House because of its lightweight composition which makes the product incredibly easy to install and maintain.
The bush setting and proximity to the unforgiving elements of the ocean meant that the exterior finishes not only had to look amazing, but they also needed to be fit for purpose, low maintenance and durable.
Jonno explains, "we are in a BAL29 fire rating area, so it was very important to use materials that are resistant to fire and comply with the National Construction Code."
"The home is also close to the ocean and exposed to a lot of different weather conditions, so the main consideration for us in addition to fire ratings was longevity. LineaTM Weatherboards by James Hardie are also incredibly easy to use, the fact they come pre-primed and ready to paint was a real time-saver. By using the HardieTM exterior cladding products, we got the best of both worlds," he said.
Lucy's background in interiors and design meant that the couple had a very clear idea on what they wanted in terms of the design and functionality of the house. They had an architect work on the basic drawings for council approval and added assurance they were adhering to the council's guidelines. Beyond that, Jonno and Lucy managed the entire build themselves.
Jonno said, "The whole process was fairly straightforward, my brother works in construction management, so he helped me manage timelines as well as working on the tools with Lucy and I".
According to Jonno, the key to the success of the renovation was to work with their builder on a very detailed and concise scope prior to starting any work.
"Because our builder would only be completing some of the work while we were renovating the rest of the home, we needed to have every detail outlined in our contract. We had a number of exclusions in our scope because we were working on things like internal fit outs and painting ourselves. It's vital that everyone involved understood their role and how everything was going to work before the project kicked off," Jonno explained.
However, not everything was smooth sailing. "The biggest challenge was keeping everything on track; getting enough trades on-site and making sure they turned up when they were booked, as well as getting materials delivered as we needed them was made even more difficult given the recent supply chain issues with materials, said Jonno.
The project took 12 months to complete, and the end result is a seamless combination of modern coastal features and original charm.
"We're incredibly proud of how it all came together. I especially love the integration of the new addition to the existing home. Being able to walk through the house in its entirety and experience all the design elements coming together is very rewarding," Jonno said.
Jonno's top tips to ensure your renovation is a success:
Have a clear vision and plan before you start. Mood board your ideas, bring your selections together and work out your budget, so you can be confident in your decisions.

If you have the ability to do it yourself, do it! You can save money if you've got the time to do certain tasks yourself.

Time Management is a big one. Create a schedule, share it with all involved and keep it up to date regularly.
About James Hardie™:
James Hardie Industries is the world's #1 producer and marketer of high-performance fibre cement and fibre gypsum building solutions. The company empowers homeowners and building professionals alike to achieve the home of their dreams with premium quality solutions that enable endless possibilities for design and aesthetics, while also delivering trusted protection and long-lasting beauty. Key to this effort is the company's dedication to its customers, market driven innovation, an inclusive and empowering company culture, and an unwavering commitment to its Zero Harm safety initiative. For more information about James Hardie, visit www.jameshardie.com.au.