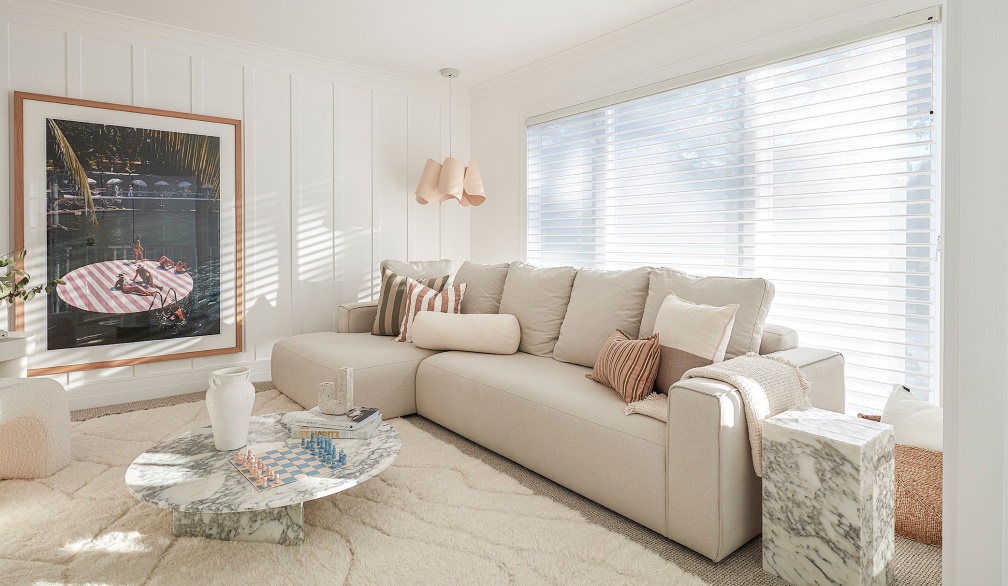 How to give your home that coastal holiday feeling all year round
According to the Three Birds trio, creating a coastal oasis within your home can be achieved by focusing on the aesthetics of your interiors, pulling together a cohesive look that champions light and the ease of moving through spaces. The Three Birds Renovations team recently completed a stunning coastal cool dream home with open living spaces, a family-friendly kitchen, alfresco dining area and four bedrooms. This bright and breezy home incorporates all of the Three Birds team's signature styles and a focus on utilising natural light to add visual character to a room.
The Three Birds team wanted to champion light without using too many lamps or overhead lights so, unfiltered natural light was a goal. They love how curtains and window dressings, such as blinds and shutters can achieve a "soft light" and provide a certain mood to a space.
As with all of the Three Birds Renovations' interior designs, the entrance of this home makes a dramatic statement - with a spectacular curved stairway leading up to the second floor with stunning windows framing the space. To create a relaxed vibe, one of the trademark looks of coastal style is the use of shutters. To add a touch of simplistic elegance Luxaflex® PolySatin® Shutters, were chosen as they can be custom-made to fit windows of various shapes and sizes.
The Australian dream modern coastal home features a bright and open downstairs living area for relaxing with family and friends. To create an atmosphere that feels like a calm oasis, soaring windows that fill the space with light were implemented. To create a sense of softness in the room, without detracting from the flow of light, Luxaflex® Curtains in Chloe Mist, were chosen. As the top of these super-scale curtains is high up within the void, the team opted for PowerView® Motorisation so they can be opened and closed with the simple touch of a button. The same curtains are used in the dining room to create a seamless look throughout the living areas.
With the importance light has on the feeling and how you live in a home, the Three Birds team wanted to give the home-owner an elegant, yet functional design that allows for them to harness and beautifully diffuse natural light to their exact preference. Luxaflex® Silhouette® Shadings in Nouveau Candid Coconut was chosen for the spacious Great room and Media room. A clever blend of on-trend design aesthetics and practicality, the innovative material used allows you to see outside, whilst restricting the view from the street for privacy. The unique design bounces incoming light up onto the ceiling and naturally brightens the room - a perfect solution for a room that's naturally a little dark.
The main bedroom is one of the most luxurious spaces in this dream home - a hotel-style retreat with vast ensuite, walk-in robe, sitting area and private balcony. Soft furnishings such as bed linen, rugs and window dressings are effortlessly layered to add textural depth and dimension. To add softness and style Luxaflex Curtains in Zion Raw were chosen to compliment the blockout Luxaflex® Duette® Shades in Apollo Truth, to ensure the space is ideal for sleeping. The blinds bottom-up operation means they can be pulled up and sit neatly at the top of the French doors when not being used.
As well as adding an element of style, Duette® Shades play an important role in helping moderate the temperature in the bedroom. Their unique honeycomb structure traps air, which provides a layer of insulation that helps keep the home's interior warmer in winter and cooler in summer. The balance of light control, privacy and the energy-efficient qualities that Duette® Shades provides, make it perfect for an Australian home.
For any family home, creating dark and peaceful spaces for rest and relaxation is essential. Luxaflex® Duette® Shades with LightLock™ in Bamboo White truffle was selected for each remaining bedroom. As well as providing all-important insulation, the LightLock™ feature ensures total darkness, for a good night's sleep.
Throughout the space, the casual yet timeless elegance of shutters work in any room and create a sense of unity throughout the home. The PolySatin® Shutters are an ideal option for wet areas as they are impervious to moisture, and won't blister, peel or fade. The shutters offer the look of painted white timber without the splinters, and they require a lot less maintenance than wooden shutters. The shutters in both bathrooms are paired with the ClearView operation giving unobstructed views.
Nothing completes an Australian modern coastal home than an outside area to entertain, play and relax. So much time is spent outdoors, so it's important to have a space that can function, no matter what season it is. Window coverings play an important role in the exterior of a home, especially to shade areas designed for outdoor entertaining, or to protect a home's interiors from the damaging effects of the sun.
Maximising living space with a seamless indoor-outdoor transition has been a key trend over the last year and shows no signs of slowing down this summer. Outdoor awnings remain hugely popular as they offer advanced sun protection and airflow for a more enjoyable entertaining space, whilst providing the added benefit of helping maintain the internal temperature.
It's Ideal to have an awning that blends in with the homes' style and doesn't detract the overall look. That's why the Three Birds team chose to cover the BBQ area with Luxaflex® Evo Pivot Arm Awning in Dickson fabric, with PowerView® Motorisation, so it can be easily opened or closed - even from inside the home, and it complements the overall aesthetic. By incorporating these contemporary elements that 'coastal holiday feeling' was achieved throughout the entire home.
For further information, visit www.luxaflex.com.au